Trainer/Rider, Tammy Prevo, provides dressage training, introduction to cavaletti, long reining, in-hand work, introduction to hacking out, conditioning for sport and exercise therapy for rehabilitation.
With over 30 years working with all types of horses, Tammy specializes in training horses in a relaxing and confidence building fashion. Tammy's sport of choice is Dressage, and training up the levels is her passion, but any horse in any sport can benefit from the improved balance, strength and coordination that Tammy's style of basic Dressage training provides.
Hot and nervous horses thrive and blossom with Tammy's training style, developing calm confidence in the work, while becoming more attentive and capable of performing their jobs with ease.
Dull or disengaged horses learn to take a new interest in their work and become more willing partners for their riders.
Horses that need additional strength and fitness to perform better develop that strength and fitness quite quickly with the varied conditioning program Tammy employs.
Horses coming back from injuries or long layoffs recover faster and come back stronger under Tammy's program.
Monday

Tuesday

Wednesday

Thursday

Friday

Saturday

Sunday

Barn Closed – Farm maintenance and Spa Day for horses

9:00 RideFit




10:00-1:00 Lessons




1:00 – Lunch break




2:00-5:00 Training rides

8:00 – 12:00 Conditioning rides




Noon – lunch break




1:00 – 5:00 Training Rides




6:00 Free Jumping

9:00 RideFit




10:00-1:00 Lessons




1:00 – Lunch break




2:00-5:00 Training rides

8:00 – 12:00 Conditioning rides




Noon – lunch break




1:00 – 5:00 Training Rides





9:00 RideFit




10:30 – 11:30 Cavaletti Group




11:30 – Lunch break




12:30 – 5:00 Training rides & lessons

9:00 – Noon Lessons & Conditioning rides




Noon – lunch break




1:00 – 5:00 Training rides
Tuesday, Thursday, Saturday – RideFit class
Wednesday evening – Free Jumping
Saturday morning – Cavaletti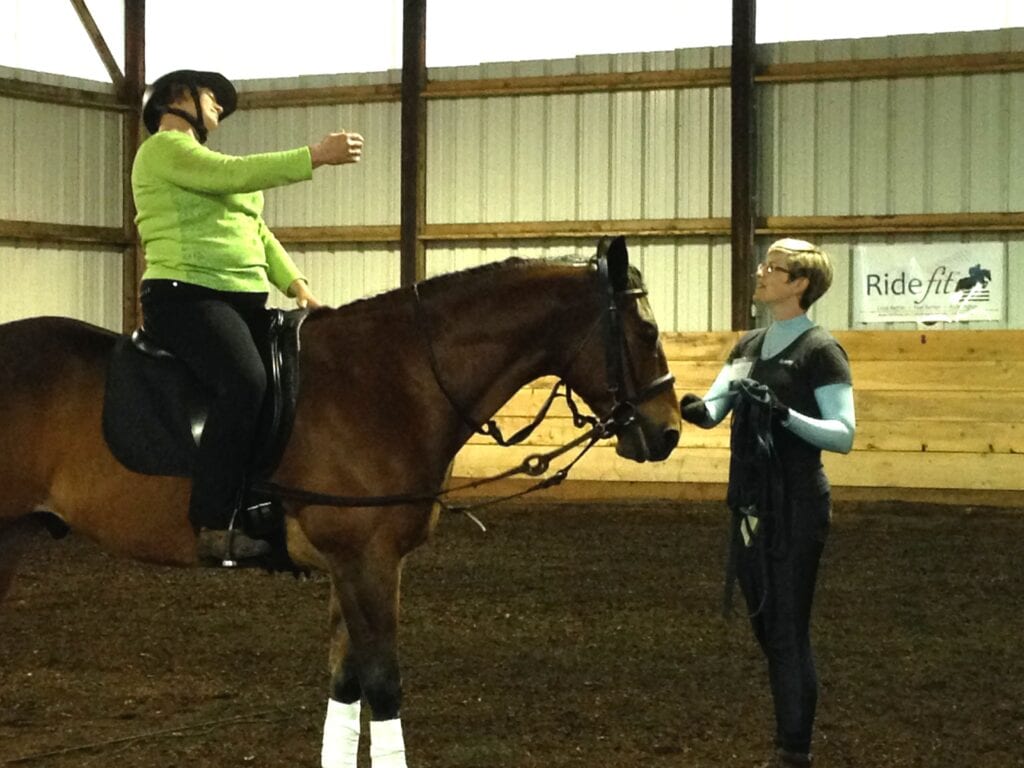 Whether you wish to develop your skills and your horse for competition, improve your seat on the lunge line, or take your riding and relationship with your horse to a whole new level with Equi-Yoga, we've got a lesson program for you.
Tammy's lessons are fun, challenging, and chock full of information you really just can't get anywhere else. Tammy not only imparts tools for your riding toolbox, but wants you to understand when and why you might need that tool, and how to utilize it.
Lesson options include:
Dressage lessons
Test riding skills
Lunge-line/Seat lessons
Cavaletti lesson
Conditioning rides (teaching you how to use hills and terrain to condition your sport horse)
Ridefit™ unmounted rider fitness sessions
Prices: All lessons are $60 and last between 45 and 50 minutes. Haul in fees applies for any horses coming from off of the property.
Contact Tammy to schedule to watch a lesson or schedule your own lesson.
Tammy is currently taking training and lesson clients at the Herres Farms facility, 15426 245th Ave SE, Monroe, Washington 98272, United States.
This facility boasts both indoor and outdoor arenas, a full-sized outdoor dressage court, a galloping track, acres of hacking paths, and all day pasture turnout. For more information about Tall Firs, visit their website: http://www.tallfirsllc.com/
Ala Carte Pricing - Invoiced Monthly
Horse Training and Conditioning
Rider Training and Fitness
Package Pricing – Per Month, Paid In Advance
Horse Training and Conditioning
Rider Training and Fitness
Training: Training sessions *average* 45 minutes each. Trainer uses his/her discretion to work longer or shorter, depending on the horse's needs on any given day. 
Full training packages include all grooming, tacking up, tack cleaning and laundering of saddle pads, boots, ear bonnets, etc., as well as cold hosing or icing legs as needed. Training packages can be configured to include both training sessions and lessons.
Grooming and tack cleaning are charged at a rate of $15 per session for a la cart training rides.
Conditioning rides: Individual conditioning rides may include work over cavaletti, walking and trotting or cantering up hills, interval training, or other work, to be determined by the horse's fitness.  This work can be added onto or in place normal daily training rides, and is offered 3 days per week.
Conditioning packages: Horse will be worked twice each day for approximately 30 minutes, 5 days per week. Trainer will use a combination of arena work, stretching, hill work, cavaletti, work without a rider (lunging, long reining and/or free jumping), and other sorts of training as part of a conditioning package. Owner is encouraged to lightly ride, hack or hand walk horse on the other 2 days of the week. Package includes all services of the training package.
Lessons: *average* 45 minutes. Riders should be tacked up and have walked their horse for at least 10 minutes prior to the start of the lesson. Seat lessons and Equi-Yoga lessons are available in addition to traditional riding lessons.
Free jumping: This is a group training activity. Participants who help with the setup and takedown, as well as walking/handling their own horses will receive a $15 discount from their horse's free jumping session. Owners are encouraged to provide boots for horse's legs.
Clipping: Partial or full body clips require a clean horse. Bathing is not included in clipping fee and will be charged at the normal bath rate. If horse must be sedated, a medication fee will apply. Horses that are anxious, fidget excessively or require additional time to clip, and incur a "naughty horse fee" of $50.
Show Coaching: Coaching is subject to trainer availability and ride times.
RideFit: All equipment is provided, including mats, balls and straps. RideFit was designed to be compatible with riding clothing, but participants are encouraged to wear athletic shoes, and may wish to remove their belts for work on the mat.
Travel a Lot?
We can do a Full Service package, where we take care of your horse 7 days a week and keep him or her in top condition for when you are in town to ride.